2019 – 2023
Funded by the NSW Government through Landcare NSW and NSW Local Land Services
This program is a $22.4 million investment co-delivered by Landcare NSW and NSW Local Land Services to unlock the potential of the extensive volunteer network and Landcare movement across NSW. It builds on the Local Landcare Coordinator Initiative, a number of previous Landcare support programs, and regional Landcare investment made through the National Landcare Program and Catchment Action in previous years.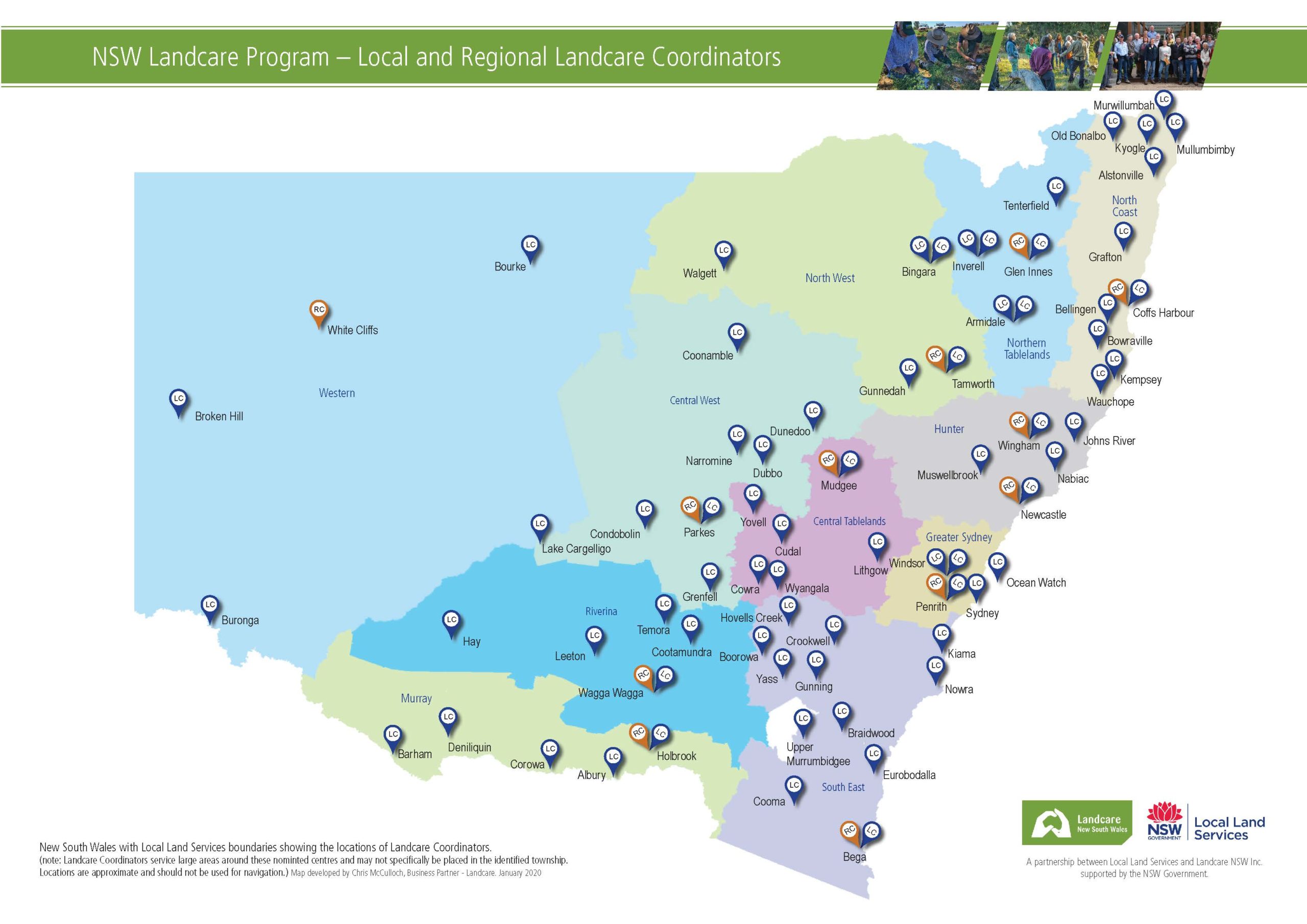 Across NSW, this program funds the employment of 12 Regional Landcare Coordinators and 72 Local Landcare Coordinators.
These Coordinators work directly with Landcare groups to improve their governance, communication, partnerships and ability to coordinate on ground activities (eg accessing funding to deliver small to large scale projects, workshops, education days and events).
Coordinators enhance the capacity of Landcare groups and networks by sharing best practice, providing a professional resource that allows Landcarers to spend their valuable volunteer time delivering projects that enhance our natural environment.
The Program is comprised of a number of components:
Local and Regional Landcare Coordinators;
A Community of Practice Component;
People Development;
Aboriginal Landcare Program; and
Program Management and Support.
The Regional Landcare Coordinator is a new role, with 12 positions across the state-wide network (1 per region). In our region, Nicole Maher is the Regional Landcare Coordinator.
Local Landcare Coordinators support the 60,000-strong volunteer Landcare network across NSW. Murrumbidgee Landcare Inc hosts five Local Landcare Coordinators across the five regions of our catchment:
Bidgee North
Bidgee South – David Waters
Bidgee West – Jade Auldist
Bidgee Mid
Bidgee Irrigation – Kathy Tenison
The Coordinators are a key resource that underpin local and regional communities of practice and the capacity of Landcarers to participate in on-ground actions.
The Program is a collaborative endeavour of Local Land Services and Landcare NSW, supported by the NSW Government and overseen by a Joint Management Committee. A memorandum of understanding underpins the Committee's operations and those of the Program.
Detailed information about the Landcare Program including the objectives, the outcomes and information about the Regional Coordinator roles and the Local Coordinator roles is available on the Landcare NSW website, or in the Landcare Program Coordinator Implementation Approach document.